Home

>

Company

>

Advantage

>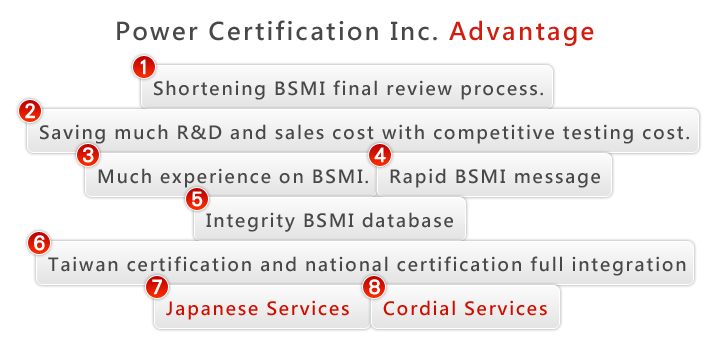 Arrangement for BSMI pre-review every week and we submitted to BSMI for new cases every day.
Good relationship with BSMI.
Chunghwa Telecom was a government unit and also the earliest approval lab by BSMI.

Since 2005, BSMI safety inspection started, RPC attends every BSMI monthly technical meeting, recognizing each requirement, arranging pre-audit and related discussion each week.

Any BSMI latest news will be informed us at the first time.

Informing clients if certification needs to be extended before 3 months of the expiring date by efficiently filing certification.
Clients must provide critical components specification in advance for searching the data base.

We provide BSMI + NCC+Green mark + Energy label + national certification by one contact window and provide team work efficiently.

Contacting Japanese engineer smoothly with professional efficiency.

We have professional, responsible, young and pushy engineers to meet each project schedule finishing on time, and providing solution on each test questions.