EMC (Electro Magnetic Compatibility)
EMC is the study of the unintentional generation and reception of electromagnetic energy and its relationship to electronic devices and systems. The primary goal of EMC testing is to identify the sources of electromagnetic energy emitted from an electronic device in an effort to reduce potential interference to other equipment, as well as determine the susceptibility of the equipment from electromagnetic energy emitted from other electronic devices nearby.

EMC is an important indicator of the quality evaluation products.

Detect electrical products produced by electromagnetic radiation on the human body, the public power grid, as well as other work properly electrical products.

Detecting whether the electrical products in the electromagnetic environment is stable and unaffected.

Radiated Emission
Conducted Emission
Harmonic
Flicker

ESD
RS
CS
SURGE
EFT
PFMF
DIP
Laboratory services qualifications
Approved laboratory of Taiwan Accreditation Foundation
N.C.C specified communications interface testing laboratory
BSMI approval safety and EMC testing laboratory
Bureau of Energy, Ministry of Economic Affairs approved Energy Label testing laboratory
EPD recognized Green Mark test laboratory
National Fire Agency approved fire equipment testing laboratory
TUV Recognized safety testing laboratory
UL Recognized safety testing laboratory
UL Recognized EMC testing laboratory
APEC MRA Login Recognized Testing Laboratory
NVLAP Login Recognized Testing Laboratory
Nemko Login Recognized Testing Laboratory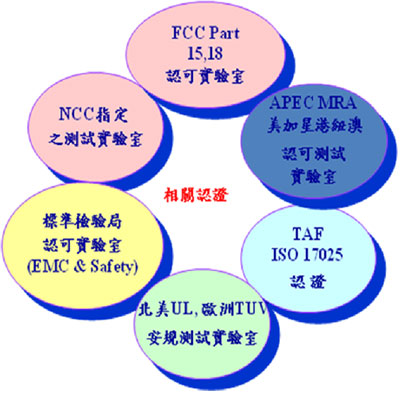 Standard Item
Introduction
CISPR 11 / EN 55011 /CNS 13803 / FCC 47 CFR Part 18
lectromagnetic interference detection for industrial, medical and scientific products
CISPR 13 / EN 55013 / CNS 13439 / J55013 / AS/NZS CISPR 13
Sound and television broadcast receivers and associated equipment electromagnetic interference detection
CISPR 14-1 / EN 55014-1/ CNS 13783-1
The appliance products electromagnetic interference detection
CISPR 14-2 /EN 55014-2
Home appliance products withstand electromagnetic detection
CISPR 15 / EN 55015 / CNS 14115 / FCC 47 CFR Part 18
Electromagnetic interference detection lighting products
CISPR 22 / EN 55022 / VCCI V-3 /
FCC 47 CFR Part 15B /
CNS 13438(95年完整版)
Electromagnetic interference detection information products
IEC62040-2 / EN 62040-2 /
CNS14757-2(99年版)
Electromagnetic interference detection uninterruptible power system products
CISPR 24 / EN 55024
Information products withstand electromagnetic detection
EN 50130-4
Security system electromagnetic immunity test
EN 61547
Lighting products withstand electromagnetic detection
EN 50082-1 /EN 61000-6-1
Residential, commercial and light-industrial environments using the product withstand electromagnetic detection
EN 50082-2 /EN 61000-6-2
Industrial environment uses electromagnetic tolerance detection
EN 50081-1 /EN 61000-6-3
Residential, commercial and light-industrial environments using the product electromagnetic interference detection
EN 50081-2 /EN 61000-6-4
The industrial environments electromagnetic interference detection
EN 50091-2
Uninterruptible power system electromagnetic compatibility testing
EN 60601-1-2
Electromagnetic compatibility check medical electrical products testing
EN 61204-3
Low-voltage DC power supply equipment electromagnetic compatibility testing
EN 61326
Laboratory measurement or control equipment electromagnetic compatibility testing
EN 300 386
Communications network equipment Electromagnetic compatibility detection
IEC/EN 61851-22
Electric vehicle conductive charging system Par.22 AC electric vehicle charging stations
EN 61000-3-2
Power harmonic interference detection
EN 61000-3-3
The voltage fluctuation flashes interference detection
EN 61000-4-2
Electrostatic discharge immunity test
EN 61000-4-3
Radiation tolerance testing
EN 61000-4-4
Rapid electrical surge immunity test
EN 61000-4-5
Lightning tolerance testing
EN 61000-4-6
Conducted immunity test
EN 61000-4-8
Power frequency magnetic field immunity test
EN 61000-4-11
The voltage dips tolerated detection
EN 61000-4-12
The ringing waves tolerated detection
EN 61000-4-13
Harmonics, interharmonics anti-jamming detection
ENV 50204
900MHz Pulse wave tolerance detection
Information products:
PC and its surrounding, monitors, printers, rocker, power supply, PC Power, mouse, keyboard, modem, scanner, motherboard, external hard drives, notebook computers, computer motherboards, credit card machines and a variety of common information supplies.
Audio and video broadcasting products:
Stereo, DVD player, LCD TV, plasma TV, speakers, home theater group and Subwoofer.
Home appliance products:
Electric pot, hairdryer, shredders, electric heater, perm, coffee maker, juicer, electric hand tools and all kinds of electrical appliances.
Industrial, medical and scientific products:
Probe test stick test instruments, scientific instruments, uninterruptible power systems and industrial appliances.
Lighting products:
LED lamps, fluorescent lamps, Bulb and various types of lamps.